It's sticky note Tuesday and I finally remembered. I'm plugging these stikies in and then I'm going to bed! Have a great Tuesday!
BTDubs... how do you get rid of those little checker-mark thingers behind the stickies? Not everybody has them. Why do I? (Sounds like something a tween going through puberty would ask their mom. Sad.)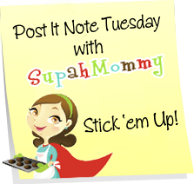 Oh, and props on the cool, new
button
sticky.